Corporate parties can be quite exciting if you believe in making it a loud bang. So much drama and fun pouring from all corners, this is where all the formal relationships with your colleagues become informal. To hold a fancy party a banquet hall will be an ideal venue to have all your arrangements in the most astounding manner with all your customised choices. Bangalore has some exciting choices when it comes to banquet halls for corporate parties.
BHAGINI ICON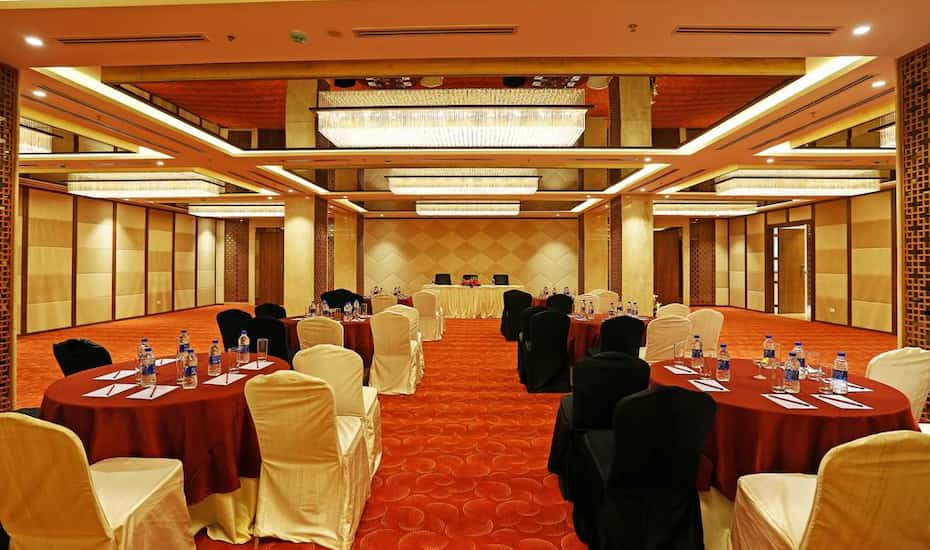 Hotel Bhagini Icon is the ideal place for you to host a corporate party in Bangalore. Nestled conveniently in the city, it will ensure that all your arrangements are catered properly and your event can run smoothly. While offering their banquet hall, they can accommodate up to 250 people at once the event space offers both contemporary and traditional aura that will make your party a super hit. Hotel Bhagini Icon allows their professional staff to assist you at every stage of the planning and execution process. The banquet hall is a spacious enough to let you host a big party comfortably. It has a policy of in-house catering only and they offer a wide range of food varieties that will be an extra add on to host a perfect corporate event in Bangalore.
SS LUMINA HOTEL
SS Lumina Hotel can offer their banquet hall and a terrace as event spaces that you can choose as per your needs and requirements. Their event spaces offer the perfect ambience and are well-equipped with all the modern technologies to provide you with the best facilities. SS Lumina Hotel can also offer you an extensive range of services which can help you organise the most fantastic corporate party, they assist you with everything and are very particular about details, they even allow external decor vendors inside the premises so that you have professional assistance at your disposal and you can decorate your event space as per your custom needs. They will offer fresh delicacies from their extended global multi-cuisine kitchen for all of your colleagues to relish.
CASA DE BANGALORE
This lavish venue allows you to host your corporate event is a most astounding manner. It has all the facilities from luxurious rooms for your invitees which gives them a comfortable stay to a hall that is ideal for hosting a big party with all your team mates under a roof full of surprises. Casa De Bangalore serves multi-cuisine delicacies in both vegetarian and non-vegetarian food to their guests. It is a place known for elaborate buffets and excellent ambiance. They customize the food palette based on your preferences and taste which is what makes them a great choice for hosting your smashing corporate party. The staff at this place is very well trained and soft-spoken. They will serve you with utmost perfection and prioritize your comfort. This venue has one of the best banquet hall in Bangalore.
RAMADA ENCORE
Ramada is a standalone building within the hotel complex steeped in lush landscaped gardens and a swimming pool and also, a water fountain. Its state-of-the-art designs allow for hosting a fancy event in the most fantastic surroundings. It has a beautiful banquet hall to offer you for organising your corporate party comfortably. The hotel management and staff make sure that the clients and their guests have an enjoyable experience. The hotel has an applauding kitchen that offers you multi-cuisine food choices which are crafted carefully by most talented chefs.
OCTAVE SUITES HOTEL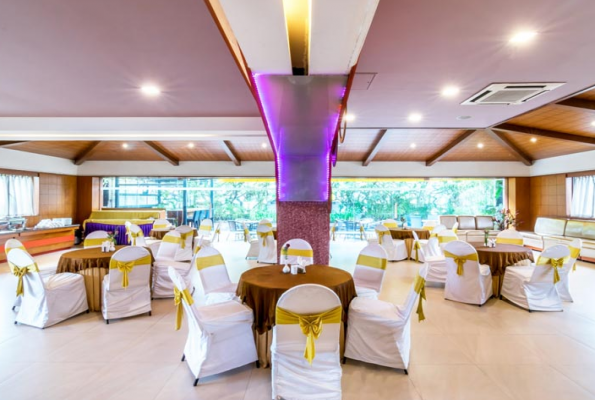 Octave Suites is a venue which has everything covered under one roof. It offers a variety of facilities and services to make your event an absolute comfortable and exciting affair. It has a beautiful and spacious banquet hall which is suitable to host your corporate party. You must pay a visit at this venue and browse the beautiful space this venue has to offer for you to host a perfect party with all the amenities. From valet parking to extremely talented staff and a kitchen filled with exciting food varieties to surprise your guests. They have a team of professionals who put their best efforts to take care of all the arrangements and let you enjoy your event without any hassle. The excellent team of chefs serve mouth-watering cuisines with enticing aromas, which will surely spoil you for choice.
Listed above are some of the most amazing venues in a vast City of Bangalore that can offer you some of the best services for you to host a perfect party as per your custom needs. They all have certain similarities and some uniqueness; it is up-to you now what suits your requirements the most and appeals your eyes. So, gear up and explore them all let @VenueMonk help you organise the best party in the most stunning ambiance for you. Hold your big hearts and party with big stretched jaws.