"They say don't pick what everyone else does, you don't want what they are getting" Is it time for you to pick something extremely unique for yourself and go all out celebrating in the most gorgeous surroundings. Bangalore is a huge city and is full of impressive venues to please your heart in every manner. But, here we have listed some of the valuable choices that you must look at before finalizing your engagement party in Bangalore.

CITADEL HOTEL

Who wouldn't love to host their party at one of the best hotels in Bangalore? With 'West Wood' providing delicious multi-cuisines and 'Wood Rose' serving as an ideal place for family and friends, The Fern Citadel is the perfect choice when it comes to hosting some fun engagement party or a cocktail party. The 9 halls of the hotel offer the best facilities and are spacious enough to host a wide range of events. The elegant décor of the venue makes it an ideal option for a grand wedding party. It gives you the freedom to get your own decorator from outside to decorate the venue as per your requirements. The venue serves multi-cuisine delicacies in both vegetarian and non-vegetarian food to their guests. This is a perfect venue to host a fancy Cocktail party in Bangalore.

SHERATON GRAND
This extravagant cover has over 1,950 square meters of event space, comprising of several banquet halls, restaurants, and lounges, Sheraton Grand Bangalore is a mesmerizing venue with bespoke luxury. Beauty runs deep, starting from the beautiful décor of the walls to the complementing colors of the design. Everything has been designed to perfection. It has everything you will require to host a perfect ceremony under one roof from fancy decor facility, Dj facility, to breathtaking yummy delicacies prepared by most talented chefs. It would welcome your guests with valet parking and also has plenty of space to secure their vehicles. If elegance and class is what you're looking for, then this lavish venue should be your first pick for hosting a perfect party. This is one of the best party place in Bangalore.

BHAGINI ICON BOUTIQUE HOTEL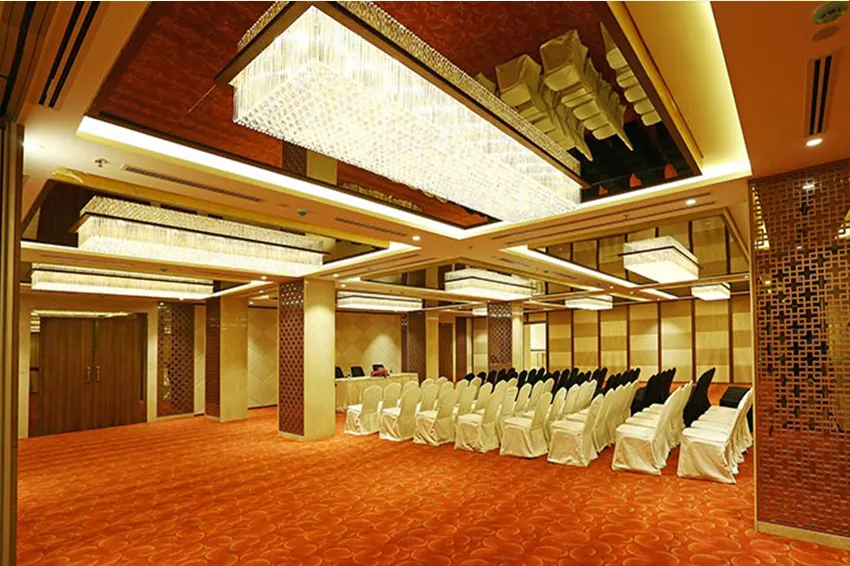 Bhagini Icon Boutique Hotel is a banquet hall and is one of the perfect locations to host various events and functions with your loved ones. While offering their banquet hall, they can accommodate up to 250 people at once which allows you to celebrate your engagement party with close-knitted people comfortably. The event space offers both contemporary and traditional aura that will make your ceremony a beautiful and extravagant event. Hotel Bhagini Icon allows their professional staff to assist you at every stage of the planning and execution process. The range of services offered by them includes service staff, exclusive space for special events, in-house catering, decor, etc.

RAMADA ENCORE
Ramada Encore Bangalore is a contemporary hotel with its innovative, modern style and inviting spaces, it is a comfortable luxurious retreat on the Inner Ring road of Bangalore. With comfortable, convenient amenities, it has a fabulous setting and is the perfect choice for hosting a lavish party. The event space here is huge and will accommodate all your guests comfortably, offering one of the finest arrangements. They also offer a lot of in-house facilities to assist you in organizing a perfect party. The hotel has an extremely lavish kitchen that offers you multi-cuisine food choices. It is suitable for all your events and will offer so much to organize your party.

TRANQUIL WOODS
Tranquil Woods by Jade, Bangalore is tucked away in a quiet lane in Bangalore which makes it a unique and unconventional property, suited to a variety of private events.It has open lawns, indoor space and a central courtyard that can accommodate up to 1500 guests. Tranquil Woods is situated near the pool and overlooks the lush green lawns of the club. The most talented set of chefs cook a plethora of cuisines with lots of love and affection. They offer a wide variety of cuisines ranging from Indian to continental to Chinese. They have an in-house bar serving one of the finest collections of cocktails adding energy to all your parties. This is a perfect venue for you to host your engagement party in Bangalore. Their decor team is very supportive and will make arrangements as per your desires. They also have their in-house DJ to add the perfect jazz and noise to your party.
So what are you waiting for? Choose the best option for yourself and go all out celebrating in the most stunning environment. You'll only live this day once and it should celebrated as you have always desired. We @VenueMonk have everything answered for you to book to perfect venue for your big day. So happy celebrating and making a thousand memories to be cherished.