Love and that's all we need for a fabulous Valentine's Day. Too much love to celebrate and don't know where to go? We have the perfect solution for you here, listed below are some of the most exciting places you can go to Celebrate your Valentine's Day in Ghaziabad. Something romantic and cosy coupled with some exciting music and cocktails to get us all groovy is all we need to have fun with our lover.
Junkyard Café
Junkyard café is a perfect place for having an absolutely perfect Valentine's Day celebration. This lovely venue has it all under one roof, from cosy seating to a perfectly dim lighting to set your romantic mood right. You must check out this place if getting a little tipsy over some cocktails is your idea for a perfect night with your better half. Junkyard has some extremely helpful staff that will go all out in assisting you. You don't want to miss this one out.
Sky House
Sky House as the name suggest sis a fantabulous place that lets you dine in and chill under the beautiful sky in the most astounding manner. It offers some exciting cocktails and a huge laid bar for you to decide the best for you. The venue also offers some amazing choices in food for you to feast on them. This place is way to perfect and is definitely one of the best pubs and bars in Ghaziabad.
Clubate
As the name suggest Clubate is a fancy place with intriguing interiors that will definitely win your heart in an instance. The big lights with mirrors are quite a highlight along with some cosy atmosphere sets the vibes right for a perfect Valentine's Day celebration. This lovely venue is a perfect party place in Ghaziabad and to chill with your special ones. The place is usually very occupied you must make your bookings in advance to avoid any hassles.
Crops and Curries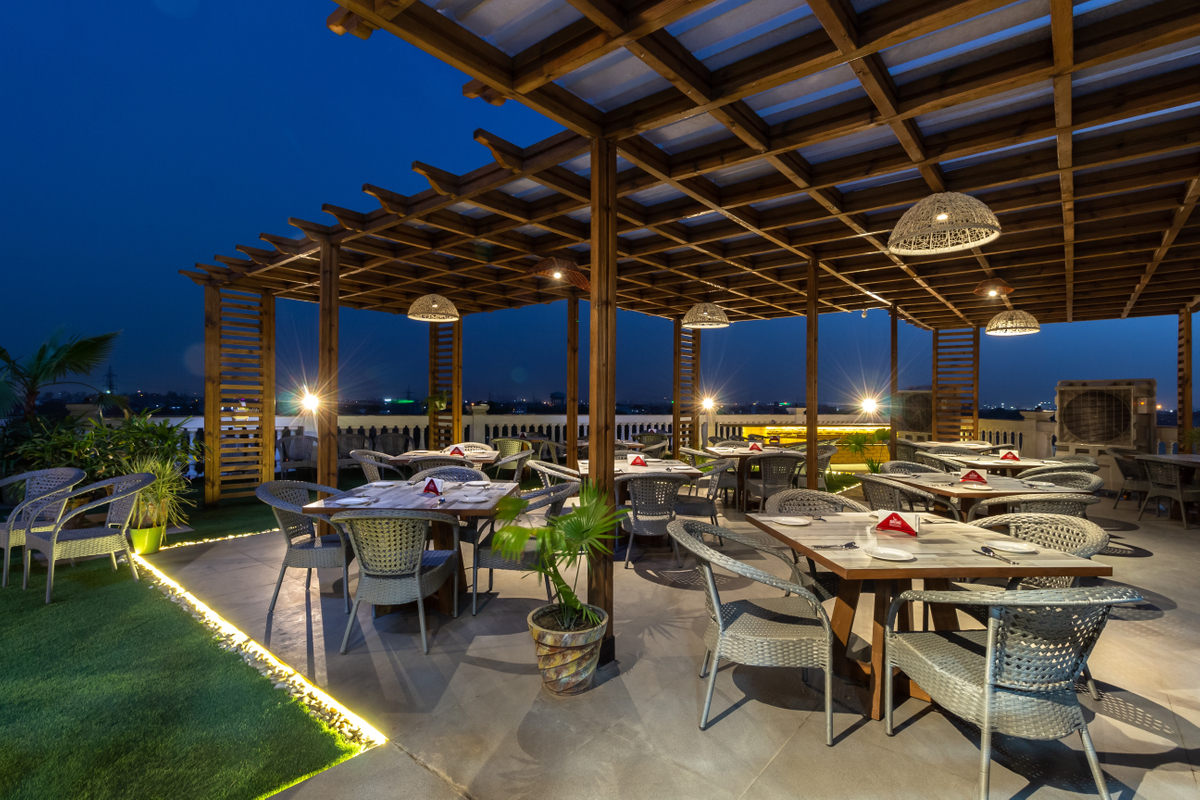 Crops and curries is a wonderful place with serene ambiance. This lovely place has the cosiest seating and arrangements one can ask for. Lush green lawns and white furniture will definitely take you the busy lanes of Santorini. It has a magical vibe and will win your heart in a few seconds. The talented and super courteous staff is always available for your assistance. The culinary masters are known for making customised exceptional delicacies for you to have a experience you can cherish for years to come.
We know you want your Valentine's Day celebration to be grand and the most memorable one. So, go and celebrate in the exciting manner. We @VenueMonk have a special Valentine's Day Offer for you Book your venue before 14 Feb & Win a Free Date Night with Your Better Half. This is a very exciting offer and you must grab this offer and have a free date night. We understand your needs and believe is delivering the best to you. Book now and help us serve you an experience you can cherish.