So what if you are stuck at home and can't throw a fancy party for all your friends. We will save that for later. You can look for some exciting Birthday Party Venues later on VenueMonk to throw a dream party. But, what's most important is how to celebrate your birthday in a lockdown? Here, in this blog, we have listed ways to make your birthday a fun day at home in the best possible ways.
Create your own Decor
You must grab some cool waste products from home and create some exciting Birthday party decorations to do up your house. You can take paper cups, thread them together and hang them from the ceiling. You can paint paper and cut them out into steamers to do up the walls. If you have fair lights, create your fancy dreamland. No birthday is complete without decor so don't miss out on this.
Bake with family
What you can also do is bake your own cake with your family. In this crucial time, we must eat home cooked items. So it's best to get the baking gloves on and make the yummiest cake for yourself. You can also make yourself a feast you love. Prepare all your favourite dishes and lay a dream dinner table. We all want a fancy treat on birthday.
Capture it
Since there are a lot of things to do, you must capture every bit of it. You are going to have the most iconic party of all time. You need to capture it to show it to the next generation. 'The lock-down Birthday celebration'. Take a lot of Polaroids and caption them. Birthdays are all about spending a happy day, but this time with fam and not friends.
Live chat with friends
Download fun live chat apps like Houseparty, Macro Polo, Snapchat etc to connect with your friends and family. You can also play some live games with them to have an entertaining evening. Games like Taboo, Ludo, Pictionary, Card games and so many more. Infact, the app Houseparty lets you play an online game with your friends while video chatting. Go get a hang of these cool apps to have a good time.
Balcony Singing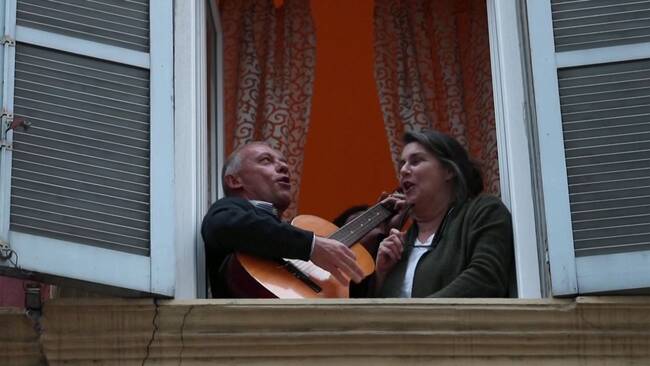 People from all across are getting in their balconies and singing together to feel connected and united. You can invite your neighbours to connect at a certain time to Jam together. Get your playlists ready and untie over singing your heart outs with your close friends.
You must find your small ways to make your big day better and happier. We are all in this together and we must act like responsible citizens. Stay indoors, stay safe. You can celebrate it anywhere if you feel the happiness from within. Drop us your messages in the comment section for more creative ways to celebrate birthday during quarantine and we'll feature them in our next blog. We @VenueMonk wish you have the best celebration and good health.